Real Estate & Property in Westcliffe, CO
/my_files/design_files/main04.jpg
/my_files/design_files/main03.jpg
/my_files/design_files/main02.jpg
Welcome to Mountain Land Properties, your real estate resource for homes and land for sale in and around Westcliffe, Colorado.
The Westcliffe area is ideal for real estate investment due to its location and the unmatched beautiful scenery. At Mountain Land Properties, we have real estate options ranging from rustic mountain cabins to luxurious homes perfect for weekend getaways and full-time living. Land with stunning mountain views is also offered for those who want to build a custom home or purchase an incredible recreational property.
Real estate in Westcliffe has something to offer everyone looking for a piece of paradise in the Rocky Mountains. Whether you're looking for land on which to build your dream home or a cozy cabin close to nature and outdoor recreation opportunities, there are plenty of properties to choose from. Purchasing real estate in Westcliffe is also an excellent investment opportunity due to its desirable setting and lower cost compared with other comparable towns in the southern Colorado area.
At Mountain Land Properties, we understand how important it is to find the right real estate investment that suits your lifestyle as well as your budget. We offer extensive real estate services, making us your premier source of
real estate in Westcliffe
and beyond.
Search the Entire Westcliffe MLS
From the Mountain Land Properties, LLC website you can search the entire
Westcliffe MLS
for all the available real estate properties in Westcliffe, Colorado. No need to search any farther which makes your property search easier and saves you time.
Mountain Land Properties, LLC specializes in Southern Colorado real estate including ranches, mountain homes, cabins, horse properties, properties with water rights and large and small acreage. Listening to your needs and meeting them is our goal as your Westcliffe Colorado Real Estate Experts.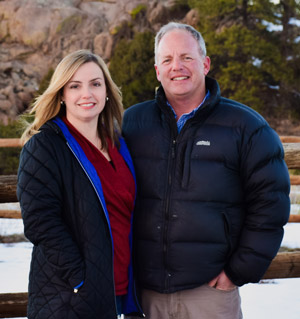 Sarah & Brock Flynn
(719) 783-0563
Westcliffe, CO Real Estate Experts
Brock and Sarah Flynn of Mountain Land Properties, LLC have been helping people with real estate in Westcliffe Colorado since 2001. Serving the Custer County and Fremont County areas, we literally go the extra mile to find the unique Colorado mountain real estate you are searching for. Click here for more information
about us
.
Our home town of Westcliffe Colorado is a small, quiet, peaceful mountain valley, commonly referred to as the Wet Mountain Valley. The Wet Mountain Valley is surrounded by the Sangre De Cristo Mountain range to the West and the Wet Mountains to the East. This makes our valley a beautiful and scenic hideaway. It is a wonderful place to raise a family or retire to. Click here for more information
about Westcliffe
.
Client Testimonials
If you are looking for someone who will actively work to either find you the perfect property you are looking for or find the perfect buyer for your property, Sarah Flynn is the best choice for the job in my opinion....
Zillow User - joannajnz
Sarah has been AMAZING to work with. She represented us in selling our small, off-grid cabin outside Westcliffe, and she went the extra mile in many ways....
Zillow User - nels9
Sarah was wonderful to work with. A lot of other agents brushed me off because I was looking at vacant land and the commission was never going to be that big. But Sarah didn't treat me that way at all....
Zillow User - Aaron Byerly
Mountain Land Properties is dedicated to helping you find real estate in Westcliffe that meets your needs and budget. We are a real estate company with over twenty years of experience in real estate in the southern Colorado area, so you can rest assured that there is nobody out there that is better suited to help you through this all-important process.


We offer a wide selection of real estate in Westcliffe and beyond for both recreational and full-time living, including cabins, luxury homes, and land with lake or river frontage. No matter what type of real estate investment you're looking for, Mountain Land Properties is committed to providing you with quality real estate services and guidance every step of the way.


At Mountain Land Properties, we believe there's something special about real estate in Westcliffe: its incredible views and outdoor recreation opportunities make it an ideal location for retirement or weekend getaways. Our unwavering commitment to customer satisfaction and our expertise in the local real estate market, gives us confidence we can help you find the perfect property. Contact us today to start your search for your dream home or land for sale in Westcliffe!